If a career as a CNA strongly appeals to you then you will be happy to know that the demand for Nursing Assistants has been steadily on the increase. It is projected by the Bureau for Labor Studies (BLS) that demand for Nursing Assistants will grow by a further 13.5% over the coming years equating to an additional 220,000 jobs between 2016 and 2024.
To qualify and work as a Certified Nursing Assistant in Colorado it is a requirement that you have graduated from an accredited CNA Program.
CNA Classes Colorado
Listed below are some of the top Nursing Assistant Schools and related programs near you.
Please note: If you wish to view schools in another area, or if you do not see any results below, please use the search widget in the sidebar.
---
Nursing Assistant Certification in Colorado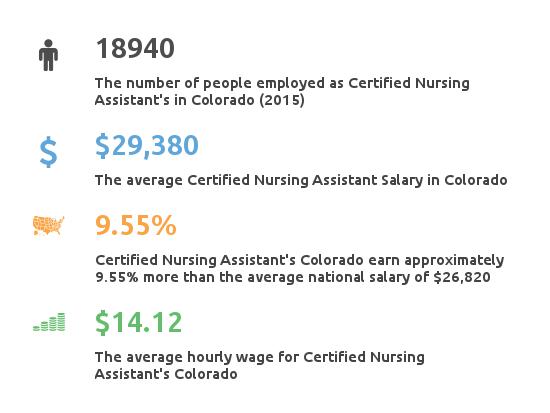 Once you have graduated from an accredited program you will still need to pass a State specific exam to become fully certified. Certification in Colorado is managed by the Colorado Board of Nursing Nurse Aide Registry. You can contact them directly using the contact details below:
Address: 1560 Broadway Ste. 1350 Denver, CO 80202
Phone: (303) 894-2430
Website: http://cdn.colorado.gov/cs/Satellite?c=Page&childpagename=DORA-Reg/DORALayout&cid=1251632229493&pagename=CBONWrapper
---
CNA Salary in Colorado
In 2015 there where 18,940 persons employed as Nursing Assistants in Colorado with and average salary of $29,380. This represents an hourly wage of $14.12 and is 9.5% above the national average. CNA's in Alaska earn the most in the USA with an average salary of $37,300.
The table below illustrates key Nursing Assistant salary and employment data for the main cities and metropolitan areas in Colorado;
Get Started Today!
Get started today and take the first steps towards your new career by reaching out to Nursing Assistant Schools in your preferred area. Simply enter your details in the box below to receive information on the best Nursing Assistant programs in your area.
It's fast and it's free!

---
Related Healthcare Careers
The table below compares key data for Nursing Assistants with other entry level healthcare and healthcare assisting roles in Colorado;
---
Colorado
Colorado , other variants) is a state of the Western United States encompassing most of the southern Rocky Mountains as well as the northeastern portion of the Colorado Plateau and the western edge of the Great Plains.
Area: 104,094 sq mi
Population: 5,695,564

Wikipedia