Healthcare Graduate is a free service that helps to connect you with the best Certified Nursing Assistant (CNA) classes near you. Get started today by browsing our list of CNA schools and programs near you or search by state for an approved CNA class in your area.
No matter if you are looking for a campus based certified nursing assistant training offering classroom instruction, evening or night classes or an online CNA program we can help you find the best class for you.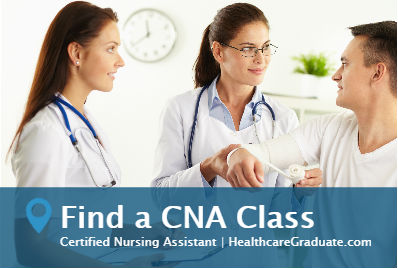 CNA Classes and Certification
CNA certification is granted to nursing assistants who have completed the required training at a state approved, fully accredited CNA program.
Below you will find a detailed overview and tips on how to choose the best CNA school near you.
Get Started: CNA Classes Near Me
Below you will find a list of some of the top schools near you offering certified nursing assistant classes and/or related programs closest to you. Simply click on a school to receive admissions data and information on their cna training programs.
---
Requirements to become a CNA
Most accredited CNA programs will require a high school diploma or GED equivalent as a prerequisite of enrollment. You may also be asked to complete an entrance exam or attend for an interview, and to complete both a health screen and criminal background check.
Prior to enrollment you will need to complete a CPR and First Aid certification
The minimum age to enroll in a CNA program is typically 18 years old. A valid driver's license or ID card will be required when enrolling.
CNA Training Options
Where Can I Take CNA Classes?
There are quite a few options when it comes to qualifying as a CNA.
Unlike other nursing careers you will not need to obtain a college degree in order to become a CNA. Although CNAs do not need an associate's or bachelor's degree, specific training is still required and at the end of your training you will earn a non degree certificate or diploma.
Training may be delivered on the job, via an accredited technical school or community college program, via an accredited online program or a mixture of some or all of these options. Most training programs will offer flexibility with part time, weekend and online options.
Accredited CNA Training Programs
It is incredibly important that you ensure that your CNA program is state approved. Before applying to a school you should double check with your state board about a list of their approved programs.
Select your state below to find a program in your area.


Alabama CNA Classes / Alaska CNA Training / Arizona CNA Programs / Arkansas CNA Classes / California CNA Training / Colorado CNA Programs / Connecticut CNA Schools / DC CNA Classes / Delaware CNA Training / Florida CNA Programs / Georgia CNA Schools / Hawaii CNA Classes / Idaho CNA Training / Illinois CNA Programs / Indiana CNA Schools / Iowa CNA Classes / Kansas CNA Training / Kentucky CNA Programs / Louisiana CNA Schools / Maine CNA Classes / Maryland CNA Training / Massachusetts CNA Programs / Michigan / CNA Classes Minnesota / Mississippi CNA Training / Missouri CNA Programs / Montana / CNA Classes Nebraska / Nevada CNA Training / New Hampshire CNA Programs / New Jersey CNA Schools / New Mexico CNA Classes / New York CNA Training / North Carolina CNA Programs / ,North Dakota CNA Schools / CNA Classes Ohio / Oklahoma CNA Training / Oregon CNA Programs / Pennsylvania CNA Schools / CNA Classes Rhode Island / South Carolina CNA Training / South Dakota CNA Programs / Tennessee / CNA Classes Texas / Utah CNA Training / Vermont CNA Programs / Virginia CNA Schools / CNA Classes Washington /West Virginia CNA Training / Wisconsin CNA Programs / Wyoming CNA Schools
State approved programs are programs which have been accredited by either the Accreditation Commission for Education in Nursing (ACEN) or the Commission of Collegiate Nursing Education (CCNE).
Accreditation is an acknowledgement that the program is delivered to the highest nursing education standards and therefore provides the necessary training to students.
Accreditation is extremely important if you hope to further your nursing studies, pursue financial aid assistance, or to apply for your nursing license in another state.
CNA classes Online
Can I become a CNA online?
If you are already juggling work commitments and family responsibilities then finding the time for a structured classroom based program can be difficult. Or maybe you live in a more remote location without schools or classes nearby. In such cases earning your CNA certification online can allow for much needed flexibility as well as time and cost savings.
However, given that hands on clinical work experience and some lab experience is required to qualify as a CNA it is not possible to complete your studies 100% online.
Thankfully there are many excellent community colleges and vocational schools which will allow you to complete the classroom based portions of your studies online allowing you the flexibility to attend to your existing commitments.
As mentioned above, whether your preferred program is online or campus based, check with your state board to make sure it is a state approved program.
Free CNA Training
If you wish to become a CNA and are searching for training which is provided for free you could explore some of the following options;
On the job CNA training at a local hospital, healthcare facility or nursing home
You local Red Cross may also have some free training options available.
Keep an eye on local job boards and be willing to do a little outreach yourself.
CNA Class Curriculum
To qualify as a CNA you will need to complete a minimum 75+ hours of learning and training provided by an accredited program.
Your CNA class curriculum is structured to ensure that you are ready to care for patients in a clinical setting. A CNA program will typically cover a rather wide range of topics and provide a range of skills required to work in a variety of settings including hospitals, physicians offices, nursing homes and private home health care.
Subjects covered can generally be split between anatomy and physiology, and patient care and practical skills.
CNA Curriculum: Anatomy and Physiology Topics
Musculoskeletal systems
Respiratory systems
Digestive system
Cardiovascular system
Urinary and elimination systems
CNA Curriculum: Patient Care and Practical Skills
Healthcare and medical terminology
Healthcare industry administrative systems and procedures
Collection of specimens
Bed making
Dressing and undressing patients
Bathing and skin care
Communication skills
Choosing the best CNA Program for you
Important points to consider when selecting a nursing assistant school include;
Is the school fully approved by your state nursing board? Unfortunately there are many certified nursing assistant classes which are not state approved. If you were to pay to attend one of these schools then you may not be able to get a license to work as a CNA in your state. You will have wasted a lot of time and money.
What qualifications and/or work experience (if any) are required to enrol in the training? Do you have the necessary prerequisites for enrolment in the school?
How long does the program last or how many hours does it take to complete?
How much of the course will be classroom based, presented online, lab based and work experience based and how does this fit with your expectations?
Does the school have good facilities and resources to support your studies?
How much does the training cost? Costs can vary widely so you will need to find a balance between which CNA school you feel offers the best education and prospects and what fits within your budget.
Does the school offer any financial assistance or CNA scholarships?
Does the school offer any assistance with securing employment as a certified nursing assistant? Some schools have dedicated career counselors to help you with your job search. And did you know that you can also ask schools about their job placement rate for previous classes is so that you will know what to expect.