Updated March 2018 to allow for the most recent Bureau of Labor Statistics salary data released on March 30th, 2018.
How Much Do Dental Hygienists Make?
Average salaries for Dental Hygienists fall within the upper end of all healthcare assistant and entry level healthcare roles. With an average salary of $74,680 per annum Dental Hygienists are among the top 25% (75th Percentile) of all salaries in the United States.
However there can be quite a significant range in salary depending on experience, industry and where you live in the USA.
In the following sections we provide a detailed breakdown of average Hygienist Salary levels according to the most recent BLS studies as well as data on income and employment growth rates.
Browse Page Content
---
Average Dental Hygienist Salary
| | |
| --- | --- |
| Average Salary (Annual) | $74,680 |
| Mean Hourly Wage | $35.91 |
| Top 10% of Earners | $101,330 |
| Bottom 10% of Earners | $51,180 |
| Highest Paying State: Alaska | $107,190 |
| Lowest Paying State: Alabama | $46,290 |
Average pay for Dental Hygienists varies greatly across the United States, depending on where you live. Even allowing for local cost of living adjustments the range is still substantial. Experience also matters with an obvious variance between entry level or starting salary and salary for those who are well experienced.
Average range across all States: From a low of $46,290 in Alabama to a high of $107,190 in Washington DC. This represents a huge variance of over $60,900 in earnings, even taking into consideration cost of living adjustments.
Top earners to bottom earners: Overall the bottom 10% (including entry level salaries) of those working as Dental Hygienists earned an average of $51,180, whilst the top 10% earned an average of $101,330.
Popular Dental Hygienist Programs >>
How much does a Dental Hygienist make an hour?
The mean hourly wage for Dental Hygienists in the USA is $35.91.
The top 10% of earners in the profession earn $48.72 per hour whilst those in the lower 10% earn just $24.61 per hour.
Average Dental Hygienist Salaries by State
The table below illustrates the top paying States for Dental Hygienists – taking into consideration cost of living adjustments for each State.
| State | Salary | Above National Average |
| --- | --- | --- |
| Alaska | $107,190 | 43.53% |
| California | $97,420 | 30.45% |
| Washington | $91,070 | 21.95% |
| New Mexico | $89,740 | 20.17% |
| Maryland | $85,890 | 15.01% |
Find out how much do dental hygienists make in your area by browsing the map below which breaks down the average salary for Dental Hygienists by State;
Top paying Metro / City areas for Dental Hygienists
If you are interested in becoming a Dental Hygienist and are motivated by earning potential you might be interested in which localities will provide you with the highest income opportunity. The table below illustrates the Metro areas and Cities where Dental Hygienists earn the most – taking into consideration cost of living adjustments for each.
| Metro Area | Average Salary | % Above National |
| --- | --- | --- |
| North Coast Region of California | $117,630 | 57.51% |
| San Francisco-Redwood City-South San Francisco | $111,020 | 48.66% |
| Fairbanks, AK | $110,730 | 48.27% |
| Southeast Alaska | $109,430 | 46.53% |
| San Francisco-Oakland-Hayward, | $109,100 | 46.09% |
Dental Hygienist Jobs Growth and Employment Projections
There are currently approximately 204,280 (2016) persons working as Dental Hygienists in the USA. This represents an almost 38% increase in employment since 2000 and this trend is set to continue. The BLS predicts that demand for Dental Hygienists will continue to grow between 2016 and 2024. In fact it is predicted that a further 30,000 positions could be created in the sector in that time representing a 14.7% increase in employment figures.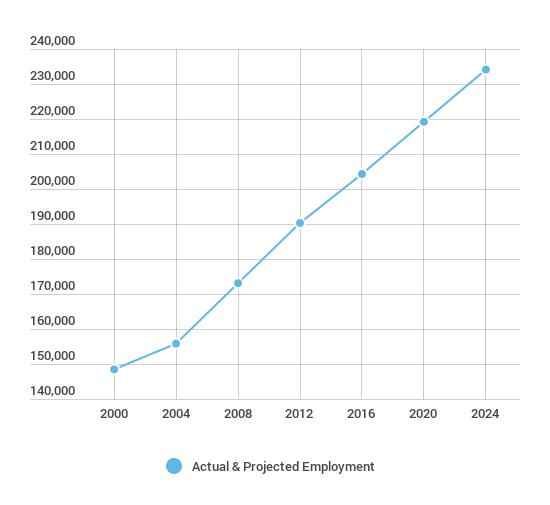 So if you are considering a career as a Dental Hygienist all the indicators would suggest that this is a good career choice. Salary levels are excellent by comparison to most other healthcare assisting roles and by comparison to other careers in general. There are a high number of people employed in the sector and as demand for the service continues to grow so too will employment with significant jobs growth.
Dental Hygiene Salary Comparisons
The table below compares average salaries for Dental Hygienists with those for similar roles in health care. This data has been updated in 2018 to reflect the most recent BLS data available.
| | |
| --- | --- |
| Dental Hygienist | $73,440 |
| Dental Assistant | $XX,XXX |
| Physical Therapist Assistant | – |
| Occupational Therapist Assistant | – |
| Veterinary Technician | – |
---