How to become a Dental Hygienist in Alaska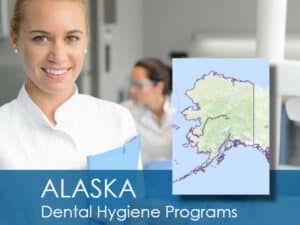 If you are interested in training to become a dental hygienist in Alaska you will need to graduate from an accredited dental hygiene program.
Requirements for entry into accredited programs include a high school diploma or equivalent and, depending on the school, you may need to pass entrance exams and complete an entry interview. Medical and legal clearances may also be required.
Below we provide details of the top accredited dental hygienist programs in Alaska, as well as licensing requirements and salary and employment data for the state.
Get Started Today
Listed below are some of the top dental hygiene schools and related programs near you.
Simply click on the green 'Get Admissions Info' button for each school to receive more information on course structure, admissions, tuition and financial assistance etc.
Please note: If you wish to view schools in another area, or if you do not see any results below, please use the search widget in the sidebar.
---
Accredited Dental Hygienist Schools Alaska
| State | School | Area | More Information |
| --- | --- | --- | --- |
| Alaska | University of Alaska | Anchorage | Learn More |
Schools offering dental hygiene programs which have been accredited  by the Commission on Dental Accreditation (CODA) are recognized to maintain a high standard of education by the American Dental Association (ADA).
There are currently only 1 CODA accredited programs in Alaska.
Once you have graduated from an accredited program you will be required to sit some additional state and/or national certification exams before you are eligible to apply for your dental hygienist license.
Alaska Dental Hygienist License Requirements
Once you have successfully graduated from an accredited program and have passed all additional certification exams it is a requirement of Alaska law that you obtain a license to work as a dental hygienist there.
The Alaska Board of Dental Examiners governs the licensing of dental hygienists in Alaska. You can contact the Board directly using the contact details below:
State Board: Alaska Board of Dental Examiners
Phone: (907) 465-2542
Website: http://commerce.alaska.gov/occ/pden.htm
Dental Hygienist Salary in Alaska
| | |
| --- | --- |
| Salary | $107,190 |
| Hourly Wage | $51.53 |
| Bottom 10% of Earners | $82,890 |
| Top 10% of Earners | $132,090 |
| # Employed | 530 |
The average dental hygienist salary in Alaska is $107,190  –  44% above the national average of $74,680.
This  represents an hourly wage of $51.53.
There are currently 530 persons employed as dental hygienists in the state.
Alaska Dental Hygienist Employment and Salaries by Metro Area
It is a great time to train to become a dental hygienist in Alaska given the strong salary levels and jobs growth for the career.
Dental hygiene salaries are among some of the highest in the healthcare industry and it is projected that an additional 30,000 positions will be created in the sector between 2016 and 2024 representing an almost 15% increase in employment.
The table below provides a breakdown of salaries and employment of dental hygienists across the main towns, cities and non metro areas in Alaska;
| Area | Number Employed | Salary |
| --- | --- | --- |
| Anchorage, AK | 290 | $87,970 |
| Fairbanks, AK | 60 | $87,360 |
| Southeast Alaska nonmetropolitan area | 60 | $95,150 |
Related Healthcare Career Comparisons in Alaska
The table below provides a comparison between income and employment of dental hygienists and related healthcare careers in Alaska;
| Career | Number Employed | Hourly Wage | Average Salary |
| --- | --- | --- | --- |
| Dental Hygienists | 3,090 | $39.40 | $81,950 |
| Physician Assistants | 2,460 | $46.12 | $95,920 |
| Respiratory Therapists | 2,370 | $26.52 | $55,150 |
| Diagnostic Medical Sonographers | 1,130 | $38.70 | $80,490 |
| Emergency Medical Technicians and Paramedics | 3,720 | $17.66 | $36,740 |
| Pharmacy Technicians | 9,060 | $15.88 | $33,040 |
| Surgical Technologists | 2,190 | $23.95 | $49,820 |
| Veterinary Technologists and Technicians | 1,270 | $12.63 | $26,260 |
| Home Health Aides | 13,420 | $11.18 | $23,240 |
| Nursing Assistants | 13,530 | $13.89 | $28,890 |
| Occupational Therapy Assistants | 400 | $28.25 | $58,770 |
| Physical Therapist Assistants | 1,420 | $21.23 | $44,160 |
| Massage Therapists | 3,880 | $22.52 | $46,850 |
| Dental Assistants | 6,820 | $18.03 | $37,500 |
| Medical Assistants | 16,890 | $15.51 | $32,260 |
| Medical Transcriptionists | 1,050 | $18.03 | $37,490 |
| Phlebotomists | 2,520 | $14.53 | $30,220 |
| Medical Records and Health Information Technicians | 4,930 | $20.01 | $41,630 |
| Respiratory Therapy Technicians | 350 | $25.08 | $52,170 |
| Radiologic Technologists | 3,190 | $29.74 | $61,860 |
***Page Updated October 2018***