Top Dental Hygiene Schools West Virginia
If you wish to become a Dental Hygienist in West Virginia it is a requirement that you have graduated from an accredited Dental Hygiene School.
Listed below are some of the top Dental Hygiene Schools and related programs near you.
Please note: If you wish to view schools in another area, or if you do not see any results below, please use the search widget in the sidebar.
If a career as a Dental Hygienist strongly appeals then you will be happy to know that Dental Hygiene salaries are among some of the highest in the healthcare industry. There also continues to be strong job growth in the sector with an additional 30,000 positions projected to be created between 2016 and 2024 representing an almost 15% increase in employment.
---
Choosing a Dental Hygienist Program: Important Considerations
Take the first step and request information from Schools and Colleges in your preferred area. Simply enter your preferences and contact information in the search box to the right or select from the School options presented above to receive program and admissions information. It's fast and easy!
Important points to consider when selecting a Dental Hygiene School include;
Is the School fully accredited?
What percentage of students who graduate are successful in securing their license to practice as a Dental Hygienist in West Virginia or their chosen State?
How long does the program last or take to complete?
How much of the course will be classroom based, online, lab based and work experience based and how does this fit with your expectations?
Does the School have good laboratory facilities and other resources to support your studies?
Does the School offer any financial assistance or scholarships?
Does the School offer any assistance with securing employment?
---
Dental Hygienist Salary in West Virginia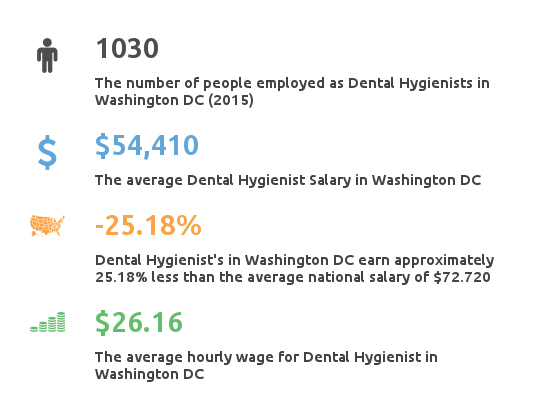 The average Dental Hygienist salary in West Virginia is $54,410. This represents an hourly wage of $26.16. Dental Hygienists in West Virginia earn 25% less than the national average. Those in Washington DC earn the most of all Dental Hygienists in the USA with an average salary of $98,530.
In 2015 there where 1,030 persons employed as Dental Hygienists in the State.
The table below illustrates key data for the main cities and metropolitan areas in West Virginia;
*
---
Get Started Today!
Get started today and take the first steps towards your new career by reaching out to Dental Hygiene Schools in your preferred area. Simply enter your details in the box below to receive information on the best Dental Hygieniest programs in your area. It's fast and it's free!

---
Related Healthcare Careers
The table below compares key data for Dental Hygienists with other entry level healthcare and healthcare assisting roles in West Virginia;
*
---
West Virginia
West Virginia ) is a state located in the Appalachian region of the Southern United States.
Area: 24,230 sq mi
Population: 1,815,857
Weather: -273.15°C, Wind at 0 km/h, % Humidity

Wikipedia