Average Massage Therapist Salary
| | |
| --- | --- |
| Average salary for Massage Therapists in 2015 | $43,170 |
| Hourly wage for Massage Therapists | $20.76 |
| 90th Percentile of Earners | $74,860 |
| 10th Percentile of Earners | $18,860 |
If you are interested in a career as a Massage Therapist then you will be pleased to hear that Massage Therapists enjoy an average income of $43,170 with significant scope for growth depending on the industry you work in, where you live and experience.
And there is good news in terms of jobs and employment prospects also. The Bureau of Labour Statistics (BLS) project that demand for Massage Therapists will grow by more than 16% between 2016 and 2024.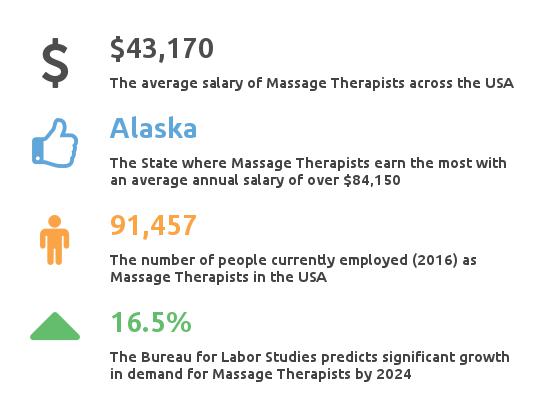 Top paying States for Massage Therapists
The table below illustrates the States in which Massage Therapists earn the most – taking into consideration cost of living adjustments for each State.
| State | Salary | Above Below |
| --- | --- | --- |
| Alaska | $84,150.00 | 94.93% |
| New York | $62,980.00 | 45.89% |
| Washington | $53,780.00 | 24.58% |
| Vermont | $52,910.00 | 22.56% |
| Oregon | $52,630.00 | 21.91% |
Massage Therapist Salaries and Employment by State
Browse the map below to see how much a Massage Therapist makes in your State;
How much does a Massage Therapist make an hour?
The mean hourly wage of a Massage Therapist in the US is $20.76 per hour.
Salary range
Salary can range quite significantly depending on where you live and how much experience you have. There is a significant range in average earnings across States from a low of $19,340 in Puerto Rico to a high of $84,150 in Alaska – almost twice the national average.. Across the industry as a whole the bottom 10% earned as low as $18,860 and the top 10% earned $74,860 on average – representing a massive range in earnings.
Comparison with similar careers
In the diagram below we compare salary levels for Massage Therapists with salaries for similar careers in the healthcare industry. As is quite visible, and as already discussed, earnings for Massage Therapists offer the greatest range and scope for salary growth. At the upper end of the scale Massage Therapists enjoy some of the highest earnings.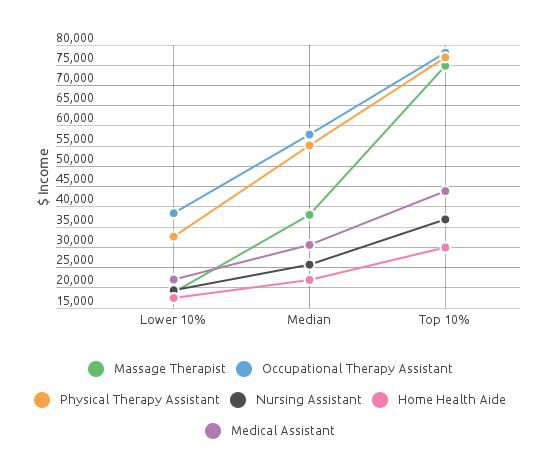 Employment Outlook
There are currently (2016) approximately 91,457 persons employed as Massage Therapists in the USA according to Bureau for Labour Studies (BLS) data.  This represents a massive 270% increase in employment since 2000. It is projected that a further 15,000 positions will be created in the sector by 2024.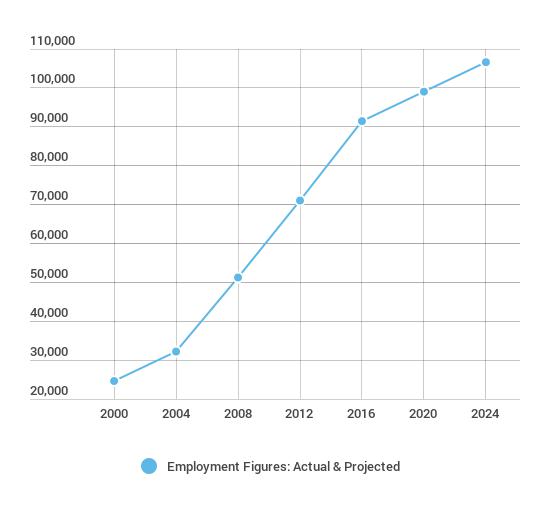 In conclusions, the data suggests that a career as a Massage Therapist offers great opportunity both in terms of employment growth and salary.  It also offers great scope in terms of place of employment and opportunity for self employment. If you are interested in finding out more about becoming a Massage Therapist then visit our guide – How to become a Massage Therapist. Or you can click the button below to find a Massage Therapy School near you.
---
Get Started Today
Choose from the schools and related programs below to get started or use the search form in the sidebar for more results.