Are you considering a career in Medical Billing and Coding and are looking for information on where to get started? At HealthcareGraduate.com we provide the best and most up to date information and resources on education, schools, salaries and careers for entry level healthcare and healthcare assisting careers – including careers in Medical Billing and Coding.
Skip to:
Medical Billing and Coding Career Overview
| Key Facts | Detail* |
| --- | --- |
| Educational Requirements | No formal educational requirements at State level but most employers prefer minimum of certificate or associates degree. |
| Average Annual Salary | $42,820 |
| Average Salary Range | $25,810 to $64,610 (depending on experience and location) |
| Number in Employment (2016) | 204,220 |
| Work Environments | Physicians Offices, Hospitals, Accounting and Administrative Companies |
| Related Careers | Medical Secretary, Medical Transcriptionist |
*Information taken from Bureau of Labor Studies, 29-2071 Medical Records and Health Information Technicians
What is Medical Coding and Billing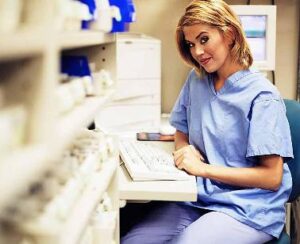 Although Medical Billing and Coding are lumped into the same job title, they are actually more like two sides of the same coin. Both billers and coders work in administrative duties in a healthcare setting and both deal with the financial end of the industry.
Without Medical Billers and Coders healthcare providers would have a difficult time getting paid for their services, especially from insurance providers. They are integral in keeping a medical office or hospital running, making sure that records and payments are up to date.
However, Medical Biller and Medical Coder are two distinct roles.
Medical Coding Job Description
Reviewing physician notes and making sure they are accurate
Making sure all records are properly signed off on
Assign the correct codes to all diagnoses and services
Then enter and organize those codes into an up to date management software
Obtain any clarification on notes and charts
Coders have to have up to date software and be familiar with ICD-9-CM, ICPM, DSM-IV and CPT-/HCPCS coding systems. These systems allow coders to quickly provide descriptions of what patients need and how they got it so that the billing can be done smoothly with no risk of error.
Medical Biller Job Description
Once the Medical Coder has updated the codes for services received the Medical Biller then translates each code as it applies to the patients healthcare insurance provider. They prepare the claims document and then submit, organize and track all insurance claims making sure that payment is received.
They may also have to deal with customers in terms of answering questions, arranging payment plans and handling collections if a payment never materializes.
Benefits of a career in Medical Billing and Coding
Medical Billing and Coding is an in demand career with good average salary levels and excellent employment growth. In fact there could not be a better time to pursue a career in Billing and Coding. According to the Bureau of Labor and Statistics, demand for Medical Billing and Coding is expected to grow by almost 13.5% between 2016 and 2026 – significantly higher than most other healthcare careers and professions. That's almost 29,000 new job openings.
It allows you to work in a healthcare setting without any of the related stress. You won't need to deal with blood or needles or life or death situations. You won't need to work shifts such as nights or weekends.
One of the great benefits of Medical Billing and Coding as a career is that it provides the option for flexible working arrangements such as self employment and/or working from home.
Finally qualification could take as little as 1 year so if your choose to pursue a qualification in Medical Billing and Coding you could easily have a career in healthcare in as little as 12 months.
How to Become a Medical Coder and Biller
1. Obtain Necessary Qualifications
Whilst post secondary qualifications are not essential to becoming a Medical Biller and Coder it is recommended, particularly if you have no prior work experience in a billing or coding environment.
There are Medical Billing and Coding programs available at both certificate and associates degree level.
It is possible to complete your education and enter into the work experience in as little as 1 year.
2. Get Certified
Whilst certification is certainly not an absolute requirement to work in medical billing and coding many employers do prefer it – especially for Medical Coding careers. Certification provides additional reassurance that the candidate is well prepared for the working world. Coding Certification is managed and awarded by two bodies;
3. Work Experience
Many employers prefer candidates with experience in a healthcare office or administration environment. If you can't get into a billing or coding position straight away then there are other ways to get your foot in the door. Consider working in the front office or reception of a physicians office, clinic or hospital. This will allow you to become more familiar with medical terms and jargon and to make important professional connections to help further your career.
Important Skills and Character Traits
There are some important personal characteristics and traits which you should possess and which will be key to your success as a billing and coding expert.
Well organized – You should work have the ability to formulate and follow efficient working procedures and guidelines.
Communication skills – you will need to be able to effectively explain all charges to patients and their families, and remain professional and empathetic in the face of dispute over charges and payment
Technologically saavy – you will need to keep up to date with technological developments in the field, especially as it relates to software developments
Work well independently and be self motivated – Medical billers and coders may have a lot of independence and autonomy in their day to day work.