Are you considering a career in Medical Billing and Coding and are looking for information on where to get started? At Partnership For Healthcare we provide the best and most up to date information and resources on education, schools, salaries and careers for entry level healthcare and medical careers – including careers in Medical Billing and Coding.
We will guide you through what you need to get started and how to select the best schools and training for you. You can even request information from your preferred schools with the click of a button. It's fast and best of all it's free!
Find Medical Billing / Coding Schools Near You >>>
Your Medical Billing and Coding Career;
| Key Facts | Detail* |
| --- | --- |
| Educational Requirements | No formal educational requirements at State level but most employers prefer minimum of associates degree. |
| Average Annual Salary | $35,050 |
| Average Salary Range | $20,440 to $78,240 (depending on experience and location) |
| Number in Employment (2016) | 491,070 |
| Work Environments | Physicians Offices, Hospitals, Accounting and Administrative Companies |
| Related Careers | Medical Secretary, Health Information Technician, Medical Transcriptionist |
*Information taken from Bureau of Labor Studies, 43-3021 Billing and Posting Clerks
Career Overview
Although Medical Billing and Coding are lumped into the same sort of job, they are actually more like two sides of a coin. Both billers and coders work in administrative duties and rarely deal with patients except in the waiting room. Both of them deal with the financial end of a medical clinic. And both types are good entry level medical careers (about one-two years of education) and are predicted to see an explosion in demand in the coming years. They can also be known as Medical records and health information technicians, though that's a bit of a mouthful! If you are curious about working in medical billing and/or coding, read on to learn more.
Medical Biller and Coder Role and Responsibilites
People working in either of these two jobs are going to work in a largely office environment with minimal contact with patients. Indeed, thanks to the technological boom and the ability to do more over the internet, many people working in this industry can actually work from home and will never see the people who belong to those records!
Generate and manage the billing records that are required in any medical office. They do a wide range of things, including:
Reviewing physician notes and making sure they are accurate
Making sure all records are properly signed off on
Assign the correct codes to all diagnoses and services
Then enter and organize those codes into an up to date management software
Obtain any clarification on notes and charts
Coders have to have up to date software and be familiar with ICD-9-CM, ICPM, DSM-IV and CPT-/HCPCS coding systems. These systems allow coders to quickly provide descriptions of what patients need and how they got it so that the billing can be done smoothly with no risk of error.
Billers then take the codes sent over and translate them into the insurance company's preferred code. They will get the claims documents ready to go and then submit, organize and track all insurance claims and finally make sure that payment is received. Phew! They may also have to deal with customers in terms of answering questions, arranging payment plans and handling collections if a payment never materializes.
Thanks to advances in technology, more and more of these jobs are being done in the home. Medical billers and coders will require the information they need, complete it and then send it back to the correct clinic. This means that people who prefer to work from home or have to work from home can still do their job while balancing out their family life.
Medical coders and billers are obviously found in places like doctor office, hospitals, pharmacies, senior's homes, long care homes and insurance firms, but can also be found in consulting firms and even in the staff of law offices! Most end up specializing in something which means they can command greater earning potential and more responsibilities.
How Do I Become a Medical Coder/Biller?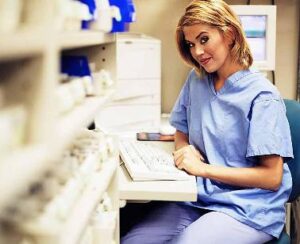 Most medical clinics will not hire just anyone off the street because incorrect billing can result in a lawsuit! If you're interested in this field, it definitely pays to have some training. There are any number of private schools and colleges which offer programs that run from between nine months and two years long, depending on your needs. There are some things to be mindful of though before you jump into your education:
Make sure that the education is current; community colleges are great for that since everything is updated
Make sure graduates can sit the certification exam (if required to)
The diploma/degree and school is recognized by employers
The cost isn't outrageously high!
Students in these programs won't just learn the various types of codes programs, terminology and health data, but also things like anatomy, physiology and computer systems. There's quite a bit that a good coder or biller will do and that's why it's so important to get the right certification so that you can work well and not bring a lawyer down on your employer!
Once you're done your education, it pays to work in an office environment for a while so that you can as questions as necessary and then when you get more comfortable, you can decide whether to work from home or continue in the office.
How Do Medical Coders Fit in the World of Medicine?
A properly trained and ready coder or biller is a real asset in any aspect of medicine, from the doctor's office to the medical lawyer. Although they don't work with patients (save on some paperwork), they are integral in keeping an office running, making sure all of the money is straightened out to everyone's satisfaction and keeping records organized and easy to pull up as needed.
Similar Careers
Similar careers to coding and billing are:
Medical and Health Service Managers: Anyone in this field will do things like plan, direct and coordinate services in the medical field. They may manage anything from an entire facility to a specific area or they might manage a practice for a group.
Medical Transcriptionists: People in this field transcribe voice recordings into written reports. They will translate medical terminology and abbreviations into something patients can read and prepare records, discharge summaries and other documents.
Medical coders and billers rarely advance to anything different (though their pay will improve); however, the skills they gather are transferable to other medical office jobs if so desired such as transcribing or accounting.
It is a great career choice for anyone who prefers to work with codes, numbers and paperwork in the medical field rather than directly with patients. You have to be organized, persistent, a good typist and be able to keep things straight in your head, but if that all sounds like you, then this could be the right choice.
You can start on your new career today with the right education. Good luck and enjoy!