Best Medical Transcriptionist Schools in Alabama
On this page you will find all the resources you will need if you are interested in a career in Medical Transcription (MT) in Alabama. Whilst a third level or post secondary qualification is not essential to work in this area it is certainly preferred. Post secondary study provides the opportunity to become certified (CMT) or registered (RMT).
Listed below are some of the top Medical Transcriptionist Schools and related programs near you.
Please note: If you wish to view schools in another area, or if you do not see any results below, please use the search widget in the sidebar.
If a career as a Medical Trnscriptionist strongly appeals then you will be happy to know that those working in the niche enjoy excellent work flexibility with the opportunity to work from home. Many qualified Medical Transcriptionists work as freelancers who work between a number of medical offices and hospitals. Unfortunately Medical Transcription is one of the few areas within the healthcare industry where average salaries and jobs growth are in decline.
---
Choosing a Medical Transcriptionist Program: Important Considerations
Take the first step and request information from Schools in your preferred area. Simply enter your preferences and contact information in the search box to the right or select from the Schools presented above to receive program and admissions information. It's fast and easy!
Important points to consider when selecting a Medical Transcriptionist School include;
How long does the program last or take to complete?
How much of the course will be classroom based, presented online, and work experience based and how does this fit with your expectations?
Does the School offer any financial assistance or scholarships?
Does the School offer any assistance with securing employment?
---
Medical Transcriptionist Salary in Alabama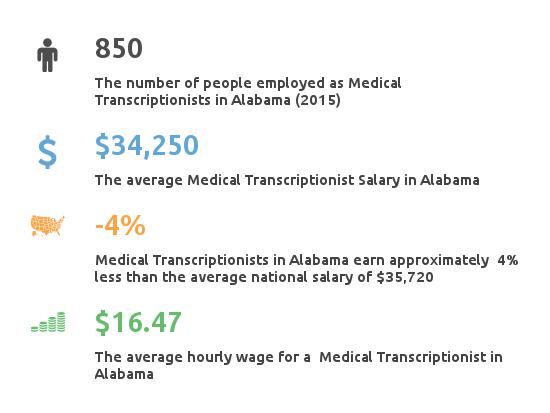 The average Medical Transcriptionist salary in Alabama is $34,250. This represents an hourly wage of $16.47. MT's in Alabama earn 4.1% less than the national average. Those in Washington DC earn the most of all States in the USA with an average salary of $48,780 which is 36.5% above the national average.
In 2015 there where 850 persons employed as a MT in Alabama.
The table below illustrates key data for the main cities and metropolitan areas in Alabama;
| Area | Number Employed | Salary |
| --- | --- | --- |
| Birmingham-Hoover, AL | unknown | $42,280.00 |
| Huntsville, AL | 80 | $41,870.00 |
| Mobile, AL | 100 | $36,020.00 |
---
Get Started Today!
Get started today and take the first steps towards your new career by reaching out to Medical Transcription Schools in your preferred area. Simply enter your details in the box below to receive information on the best Dental Hygieniest programs in your area. It's fast and it's free!

---
Related Healthcare Careers
If you are interested in a career in healthcare support but are concerned by the negative growth in salary and employment for Medical Transcriptionists the table below presents key data for other entry level healthcare and healthcare assisting roles in Alabama for your review;
| Career | Number Employed | Hourly Wage | Salary |
| --- | --- | --- | --- |
| Medical Transcriptionists | 850 | $16.47 | $34,250.00 |
| Physician Assistants | 520 | $44.83 | $93,240.00 |
| Respiratory Therapists | 2,170 | $22.56 | $46,930.00 |
| Dental Hygienists | 3,040 | $21.34 | $44,400.00 |
| Diagnostic Medical Sonographers | 1,010 | $26.19 | $54,470.00 |
| Emergency Medical Technicians and Paramedics | 3,610 | $13.90 | $28,910.00 |
| Pharmacy Technicians | 7,350 | $13.23 | $27,520.00 |
| Surgical Technologists | 1,680 | $17.11 | $35,590.00 |
| Veterinary Technologists and Technicians | 910 | $14.03 | $29,180.00 |
| Home Health Aides | 4,860 | $9.48 | $19,720.00 |
| Nursing Assistants | 22,740 | $10.65 | $22,150.00 |
| Occupational Therapy Assistants | 500 | $27.04 | $56,240.00 |
| Physical Therapist Assistants | 1,860 | $25.25 | $52,520.00 |
| Massage Therapists | 340 | $16.11 | $33,520.00 |
| Dental Assistants | 3,410 | $15.02 | $31,240.00 |
| Medical Assistants | 6,660 | $12.86 | $26,740.00 |
| Phlebotomists | 2,140 | $13.19 | $27,440.00 |
---
Alabama
Alabama is a state in the southeastern region of the United States. It is bordered by Tennessee to the north, Georgia to the east, Florida and the Gulf of Mexico to the south, and Mississippi to the west.
Area: 52,419 sq mi
Population: 4,887,871

Wikipedia