In order to work as an Occupational Therapy Assistant (OTA) you must have graduated from an accredited school. An accredited school is one which has been awarded accreditation, based on an onsite program evaluation, by the Accreditation Council for Occupational Therapy Education (ACOTE).
Healthcare Graduate helps to connect students interested in a career as an OTA with the best schools and programs based on their requirements. Get started today by browsing our list of OTA Programs near you or search by State for an approved class in your area.
GET STARTED: Research Schools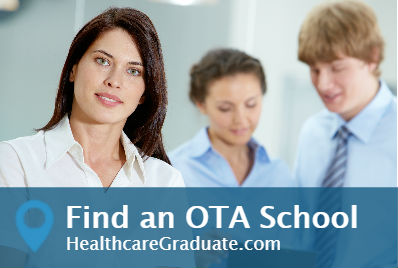 No matter if you are looking for a campus based program offering classroom instruction, evening or night classes, or an online OTA program we can help you find the best class for you.
---
Occupational Therapy Assistant Schools Near Me
Listed below are some top schools offering OTA programs and/or related programs nearest to you.
Simply click on each school to request more information – we recommend you select up to 5 schools so you can make a balanced comparison. As soon as you make your selection a careers and admissions advisor will be able to send you more information relating to;
Programs & Curriculum
Admissions Information
Tuition & Financial Aid
Career Opportunities
Please note: If you wish to view schools in another area, or if you do not see any results below, please use the search widget in the sidebar
OTA Schools by State
If you are looking for a campus based Occupational Therapy Assistant (OTA) program and would like to find schools in your area then simply select your State below to find OTA Schools in your preferred location.


Alabama / Alaska / Arizona / Arkansas / California / Colorado / Connecticut / Delaware / Florida / Georgia / Hawaii / Idaho / Illinois / Indiana / Iowa / Kansas / Kentucky / Louisiana / Maine / Maryland / Massachusetts / Michigan / Minnesota / Mississippi / Missouri / Montana / Nebraska / Nevada / New Hampshire / New Jersey / New Mexico / New York / North Carolina / North Dakota / Ohio / Oklahoma / Oregon / Pennsylvania / Puerto Rico / Rhode Island / South Carolina / South Dakota / Tennessee / Texas / Utah / Vermont / Virginia / Washington / Washington DC / West Virginia / Wisconsin / Wyoming
Find Scholarships & Grants >>
Online Occupational Therapy Assistant Programs
There are several schools which offer partial distance learning options as part of their curriculum. Only 2 schools which have been accredited by the Accreditation Council for Occupational Therapy Education (ACOTE) provide for up to 100% distance learning. These are listed below.
Simply click on the school name and enter your details to receive program information, admissions and tuition information.
Choosing an Occupational Therapy Assistant Program: Important Considerations
Important points to consider when selecting an OTA School include;
Is the School fully accredited?
What percentage of students who graduate are successful in securing their license to practice as a OTA in their chosen State?
How long does the program last or take to complete?
How much of the course will be classroom based, online, lab based and work experience based and how does this fit with your expectations?
Does the School have good laboratory facilities and other resources to support your studies?
Does the School offer any financial assistance or scholarships?
Does the School offer any assistance with securing employment?
OTA Schools Near Me, OTA Program Near Me, OTA Programs Online
---