Top Schools for Pharmacy Technician Training in Washington DC
For the majority of States in the USA registration or licensing is necessary to work as a Pharmacy Technician there. Completion of an approved Pharmacy Tech program at an accredited school is typically required to apply for your license.
Listed below are some of the top Pharmacy Tech Schools and related programs near you.
Please note: If you wish to view schools in another area, or if you do not see any results below, please use the search widget in the sidebar.
If a career as a Pharmacy Tech strongly appeals to you then it is a great time to pursue your dreams. The demand for Pharmacy Techs has grown massively over the last decade and is projected to grow by a further 7.4% over the coming years with an additional 28,229 jobs predicted to be created in the sector between 2016 and 2024.
---
Washington DC Pharmacy Technician Licensing and Certification Requirements
Forty six States in the USA have in place regulations which require registration, licensing, and/or certification for Pharmacy Technicians. The specific requirements of these regulations varies from State to State.
The Board of Pharmacy in the DC Department of Health can provide more specific information on necessary certification and licensing requirements. You can contact them directly using the details below:
Address: 899 North Capitol Street NE, Washington, DC 20002
Phone: (877) 672-2174
Website: http://doh.dc.gov/service/pharmacy-licensure
---
Pharmacy Tech Salary in Washington DC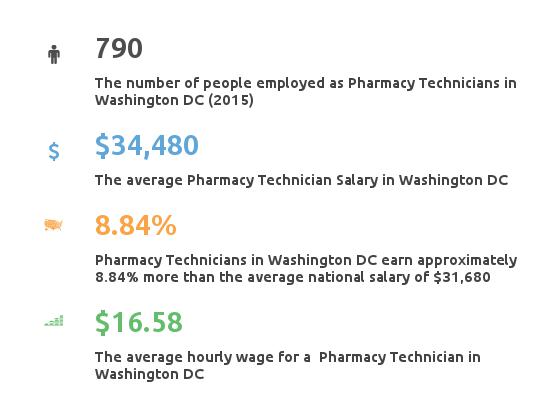 In 2015 there where 790 persons employed as Pharmacy Technicians in Washington DC with an average salary of $34,480.
This represents an hourly wage of $16.58.
Pharmacy Techs in Washington DC earn 8.8% above the national average. Those in Washington earn the most of all with an average salary of $40,980.
---
Choosing a Pharmacy Technician Program
Take the first step and request information from Schools in your preferred area. Simply enter your preferences and contact information in the search box in the sidebar or select from the Schools presented above to receive program and admissions information.
It's fast and easy!
Important points to consider when selecting a Pharmacy Tech School include;
Is the School fully accredited?
What percentage of graduates are successful in becoming fully certified or licensed in their State?
How long does the program last or take to complete?
How much of the course will be classroom based, online, lab based and work experience based and how does this fit with your expectations?
Does the School have good lab facilities and other resources to support your studies?
Does the School offer any financial assistance or scholarships?
Does the School offer any assistance with securing employment?
---
Get Started Today!
Get started today and take the first steps towards your new career by reaching out to Pharmacy Technician Schools in your preferred area. Simply enter your details in the box below to receive information on the best Pharmacy Tech programs in your area. It's fast and it's free!

---
Related Healthcare Careers
The table below compares key data for Pharmacy Technicians with other entry level healthcare and healthcare support roles in Washington DC;
---
Washington, D.C.
Washington, D.C., formally the District of Columbia and commonly referred to as Washington or D.C., is the capital of the United States.

Wikipedia