If a career as a Physical Therapy Assistant (PTA) strongly appeals to you then there could be no better time to pursue your dreams. The demand for and remuneration of Physical Therapy Assistants has been steadily on the increase over the last decade.
Steps to Become a Physical Therapist Assistant in Alaska
---
Get Started
Listed below are some of the top PTA Schools and related programs near you. Get started today by reaching out to schools to receive information on course curriculum, admissions requirements, etc.
Simply click on the green 'Get Admissions Info' button to receive more information.
Accredited Physical Therapy Assistant Programs in Alaska
There is just currently 1 accredited school offering a Physical Therapy Assisting program in Alaska.
| College | Metro Area | Accreditation Status: | Acreditted Until |
| --- | --- | --- | --- |
| University of Alaska | Anchorage | Accreditation | Spring 2020 |
Complete State and National level Certification Examinations
Once you have obtained your degree from an accredited school you will need to apply for your state license. To obtain your license it is a requirement that you successfully complete some additional certification exams.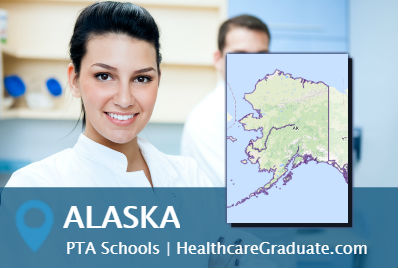 Alaska is one of only 27 States which requires Physical Therapist Assistants to undertake both local jurisprudence exams as well as the National Physical Therapy Examination (NPTE)
Local jurisprudence exams are a test of a candidates understanding of local Alaskan laws and rules under which they are allowed to work.
The NPTE exams are developed and administered by the US Federation of State Boards of Physical Therapy (FSBPT). The purpose of the NPTE exams is to ensure a minimum standard or knowledge and competence after graduation and before entering into the workplace.
Alaska PTA License
It is required by Alaska law that you obtain a license to work as a Physical Therapist Assistant in the State. If this is your first time applying for a PTA license it is a prerequisite in Alaska that you sit and successfully complete the local State level exam and the National Physical Therapy Examination.
If you hold a PTA license in another State and wish to obtain a license in Alaska you may not need to undertake any further exams.
The Alaska State Physical Therapy and Occupational Therapy Board regulates the licensing of Physical Therapist Assistants in Alaska. They are also responsible for managing local and NPTE exam applications.
Please contact the Board directly using the contact details below with regards to all queries relating to NPTE exams and licensing:
Address: 333 Willoughby Avenue, 9th Floor, P.O. Box 110806, Juneau, AK 99811-0806
Email: connie.petz@alaska.gov
Phone: (907) 465-2580
Website: https://www.commerce.alaska.gov
---
Physical Therapy Assistant Salary in Alaska
According to the most recent Bureau of Labor Statistic Studies data (March 2018) Physical Therapists in Alaska earned $61,150 per annum, 6.13% above the national average for the career.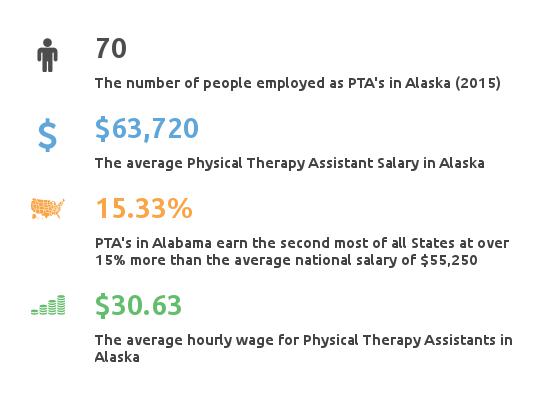 The average PTA salary in Alaska is $63,720 and is over 15% more than the national average. This represents an hourly wage of $30.63. Texas is the highest paying State for Physical Therapist Assistants in the USA.
However in 2015 there where only 70 persons employed as a Physical Therapy Assistant in Alaska.
---
Related Healthcare Careers
Physical Therapy Assistants fair very well by comparison to similar careers such as Occupational Therapy Assistants, Massage Therapists and Home Health Aides in terms of average salary, from entry level to well experienced – achieving one of the highest average salary levels.
Additionally in terms of employment figures and growth it has been flagged as one of the top 5 fastest growing careers in healthcare by the Bureau For Labor Statistics (BLS).
The table below illustrates key data for similar healthcare careers in Alaska;

| Career | Number Employed | Hourly Wage | Salary |
| --- | --- | --- | --- |
| Physical Therapist Assistants | 70 | $30.63 | $63,720.00 |
| Home Health Aides | 1960 | $14.50 | $30,160.00 |
| Nursing Assistants | 1770 | $17.93 | $37,300.00 |
| Massage Therapists | 700 | $40.46 | $84,150.00 |
| Medical Assistants | 1460 | $18.65 | $38,800.00 |
Alaska
Alaska ; Aleut: Alax̂sxax̂; Inupiaq: Alaasikaq; Alutiiq: Alas'kaaq; Tlingit: Anáaski; Russian: Аляска, romanized: Alyaska) is a U.S.
Area: 663,268 sq mi
Population: 737,438

Wikipedia