With employment of physical therapist assistants (PTA's) projected to grow by a massive 30% over the coming years there could be no better time to consider becoming a PTA in Montana (MT).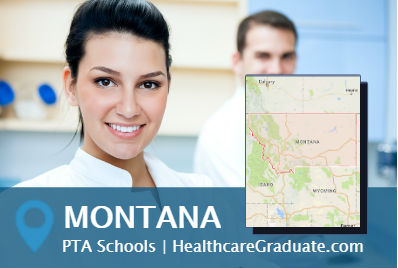 The demand for and remuneration of physical therapist assistants has been steadily on the increase over the last decade and it is expected that an additional 25,000 new jobs will be created in the sector between 2016 and 2024
Healthcare Graduate is a free service that helps to connect you with the best PTA schools for you in your preferred area or online.
How to become a Physical Therapist Assistant in Montana
In order to become a PTA in Montana you must have graduated from an accredited program. An accredited program is one which has been approved by CAPTE for both the quality of the course and the quality of the examinations and graduates produced.
GET STARTED TODAY
---
Get Started Today
Listed below are some of the top PTA schools and related programs near you in Montana.
Get started today by reaching out to schools to receive information on course curriculum, admissions requirements, tuition etc.
Simply click on the green 'Get Admissions Info' button to receive more information. It's free and it's easy!
Accredited PTA Schools Montana
| College | Metro Area | Acredittion | Find Out More |
| --- | --- | --- | --- |
| The University of Montana - Missoula | Skaggs Building | Spring 2018 | Request Information |
Click on the 'Request Information' link for each school and enter your details to receive information on their PTA programs and admissions data.
You can also browse the map below to view all schools offering PTA programs in Montana and neighboring areas.
Still haven't found what you're looking for? You might be interested in exploring one of the following options;
PTA Certification Exam Requirements in Montana
Once you have graduated from an accredited school in Montana you will need to obtain a license to work as a physical therapist assistant there. To obtain your license it is a requirement that you have successfully passed additional certification exams.
Montana is one of 27 States in which it is a requirement to undertake both a State level exam as well as the National Physical Therapy Examination (NPTE).
The purpose of the state exam, where required, is to ensure that the candidate has a thorough understanding of the local laws and regulations under which they are allowed to work.
The purpose of the NPTE exams is to ensure a minimum standard or knowledge and competence after graduation and before entering into the workplace. The NPTE exams are developed and administered by the US Federation of State Boards of Physical Therapy (FSBPT).
Montana PTA License Requirements
Once you have graduated from an accredited program it is required by Montana law that you obtain a license to work as a Physical Therapist Assistant in the State.
The Board of Physical Therapy regulates the licensing of Physical Therapist Assistants in Montana. You can contact the Board directly using the contact details below:
Address: 301 S. Park, 4th Floor, P.O. Box 200513, Helena, MT 59620
Email: dlibsdptp@mt.gov
Phone: (406) 841-2395
Website: http://b.bsd.dli.mt.gov
Update 2018: The Federation of State Boards of Physical Therapy (FSBPT) has recently launched the Physical Therapy Licensure Compact for PT's and PTA's.
The purpose of the compact is to essentially create an interstate license which will allow a physical therapist or physical therapist assistant to practice outside of the state in which they obtained their license.
Average PTA Salary in Montana
| | |
| --- | --- |
| Salary | $46,430 |
| Hourly Wage | $22.32 |
| Bottom 10% of Earners | $31,750 |
| Top 10% of Earners | $59,440 |
| # Employed | 160 |
According to the most recent Bureau for Labor Statistics data physical therapist assistants in Montana earn an average salary of $46,430. This represents an hourly wage of $22.32 and is 19.4% below the national average.
The top 10% of earners in the profession in Montana earned $59,440 whilst the bottom 10% earn $31,750.
There are approximately persons currently employed as PTA's in Montana.
PTA Salaries and Employment in Montana by Metro Area
The table below breaks down salary and employment of physical therapist assistants by Metro area across the state.
| Area | Salary | Hourly Wage | # Employed |
| --- | --- | --- | --- |
| Great Falls | $46,800 | $22.50 | 30 |