If you are interested in a career as an Ultrasound Technician (also referred to as Ultrasound Tech, Ultrasound Technologist, Diagnostic Medical Sonographer or Sonographer) then you may be interested to find out how much do Ultrasound Techs make? In this section we provide a breakdown of Ultrasound Technicians average salary levels throughout the USA. Overall though you will be pleased to hear that they enjoy one of the highest average incomes in the healthcare support field.

Average Ultrasound Tech Salary
| | |
| --- | --- |
| Average annual salary | $70,880 |
| Average Hourly wage for Ultrasound Technicians | $26.19 |
| Highest 10% of Earners | $97,390 |
| Lowest 10% of Earners | $48,720 |
The average Ultrasound Tech salary is $70,880 (2015), according to the most recent Bureau of Labor Statistics (BLS) data from May 2015. In fact the average salary for Ultrasound Technicians has grown by 55% since 2000.
And there is good news in terms of jobs and employment prospects also. The BLS project that demand for Ultrasound Technicians will continue to grow at a significant rate.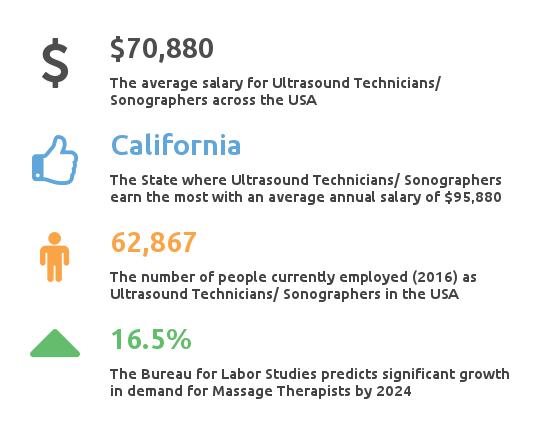 How much does an Ultrasound Technician make an hour?
The mean Ultrasound Technician hourly salary in the USA is $34.08.
Salary Range for Ultrasound Technicians
While there is a substantial range in salary depending on where you live and your level of experience it is not quite as apparent as with some other healthcare careers.
Those living in Puerto Rico earn the least at just $26,410 per annum. The second lowest paying State is Alabama at $54,470, which is substantially higher than Puerto Rico.
The highest paying State for Ultrasound Technicians is California at $95,880.
In terms of overall salary range at a national level the lower 10% of salaries (including Ultrasound Technician starting salary) is $48,720 whilst the top 10% of salaries average $97,390.
The highest paying area (metro or city area) for Ultrasound Technicians was Vallejo-Fairfield in California where the average salary is $120,990, almost 71% above the national average.
If you feel that a career as an Ultrasound Technician or Diagnostic Medical Sonographer could be the ideal career in health care for you then click below to view schools in your State.
Find An Ultrasound Tech School Near You >>>
Top 5 paying States for Ultrasound Technicians
The table below illustrates the States in which Ultrasound Techs earn the most – taking into consideration cost of living adjustments for each State.
| State | Salary | Above Average |
| --- | --- | --- |
| California | $95,880.00 | 35.27% |
| Washington DC | $88,230.00 | 24.48% |
| Oregon | $86,390.00 | 21.88% |
| Washington | $85,120.00 | 20.09% |
| Massachusetts | $81,370.00 | 14.80% |
Salary for Ultrasound Techs by State
Browse the map below to learn how much does a Ultrasound Technicians make in your area;
Salary for Ultrasound Technicians compared to similar careers
The diagram compares salary levels for Ultrasound Techs with salaries for similar careers in the healthcare industry. As is visible in the diagram Ultrasound Techs the highest salary levels overall however it must be noted that salary difference between each career is quite narrow.
Employment Outlook
There are currently (2016) approximately 62,867 persons employed as Ultrasound Technicians (Sonographers) in the USA according to the Bureau for Labour Studies (BLS) data. This represents an increase of 100% since 2000.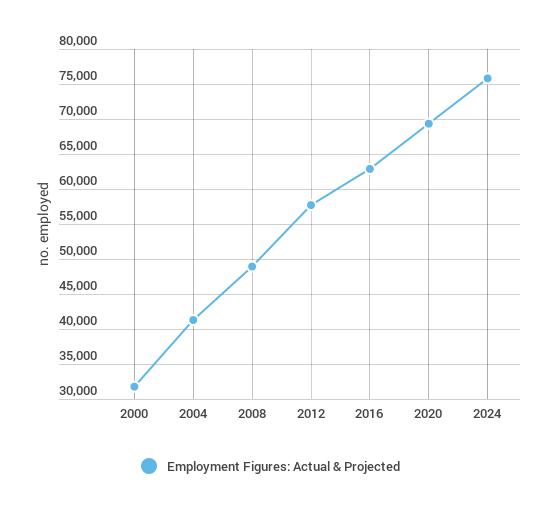 Find An Ultrasound Tech School Near You >>>
The good news is that this growth trend is set to continue and it is projected that employment will grow by a further 20.5% between 2016 and 2024 – creating a further 13,000 positions in the industry. It is a great time to be considering a career as an Ultrasound Technician!
---