or
Sonographer) offers great income potential and excellent job prospects. Demand for Ultrasound Techs is projected to grow by over 20% between 2016 and 2024.
Why not get started with your new career today! Listed below are some of the top Ultrasound Technician Schools in Utah.
Ultrasound Technician Schools in Utah
Take the first step towards your new career. Simply select from the list of Ultrasound Technician schools and programs near you to receive programs and admissions information.
Please note: If you wish to view schools in another area, or if you do not see any results below, please use the search widget in the sidebar.
Choosing an Ultrasound Technician Program in Utah
Important points to consider include;
Is the School fully accredited?
What percentage of graduates are successful in securing their Ultrasound Technician license in Utah?
How long does the program last or take to complete?
How much of the course will be classroom based, presented online, and work experience based and how does this fit with your expectations?
Does the School have good facilities and resources to support your studies?
Does the School offer any financial assistance or scholarships?
Does the School offer any assistance with securing employment?
---
Ultrasound Technician Salary in Utah
| | |
| --- | --- |
| Average Salary | $73,680 |
| Hourly Wage | $35.42 |
| Compared to National Average | 4% Above |
| Number Employed | 520 |
According to the most recent Bureau for Labor Studies data the
average annual salary for Ultrasound Technicians in Utah is $73,680 (May, 2015)
. This is
4% above the national average
. Ultrasound Tech's in California earn the most of all States in the USA with an average salary of $95,880, over 35% above the national average.
In 2015 there where 520 persons employed as Ultrasound Tech's in Utah.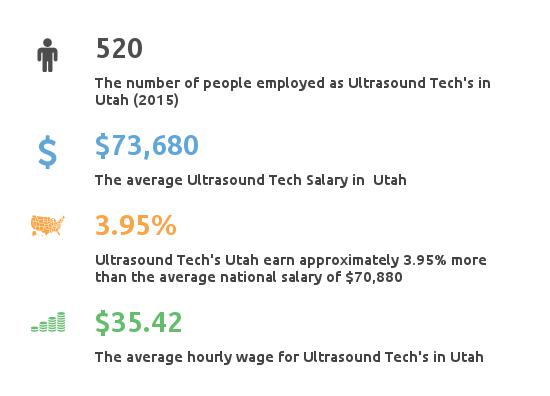 Utah Ultrasound Technician Licensing Requirements
A license is not a requirement in any US State to work as an Ultrasound Technician. However, in today's competitive jobs market it is strongly recommended given that most employers seek licensing as a mark of skills levels and credentials.
In order to become licensed you will need to successfully pass the American Registry of Diagnostic Medical Sonographers (ARDMS) or the American Registry of Radiologic Technologists (ARRT) exams. The ARDMS and ARRT are the most widely recognized ultrasound technician licensing organizations in the USA. An associates degree from a certified Ultrasound Technican School is a necessary prerequisite to taking these exams.
Other licensing options are available to those wishing to specialize in a particular area such as cardiac and opthalmic. Examples of such organisations include the Cardiovascular Credentialing International (CCI) and the Joint Commission on Allied Health Personnel in Opthalmology (JCAHPO).
If you have any questions about obtaining your license in Utah you can contact;
Organisation: Division of Occupational and Professional Licensing
Address: PO Box 146741, Salt Lake City UT 84114-6741
Phone: (801) 530-6628
Website: dopl.utah.gov
Get Started Today!
It's time to reach out to Ultrasound Tech Schools in your preferred area. Simply enter your preferences in tbe search box below;

---
Utah
Utah YOO-taw) is a state in the western United States. It became the 45th state admitted to the U.S.
Area: 84,899 sq mi
Population: 3,161,105

Wikipedia